Are you looking for a quick and easy way to send a file to a friend, team, company or transfer data between devices? If so, look no further.
WeTransfer is one of the world's most popular file-sharing apps used across the creative industry. WeTransfer was founded over a decade ago and provide a simple way to send big files. They initially focused on file-sharing and have since developed several productivity tools. As the WeTransfer brand has grown and their price plans have increased to reflect the corporation's growing size, we are aware that users are constantly seeking innovative alternative products that can adapt quickly to changing environments. As a result, we compiled a list of our favourite alternative products. These apps offer slightly different methods so you can transfer files as fast as possible.
Most users already have cloud storage services like Box, Dropbox and Google Drive, but they can often be overkill for a simple use-case.
UploadFiles.io
SHAREit
Send-Anywhere
---
C-Share (by Collabow.io)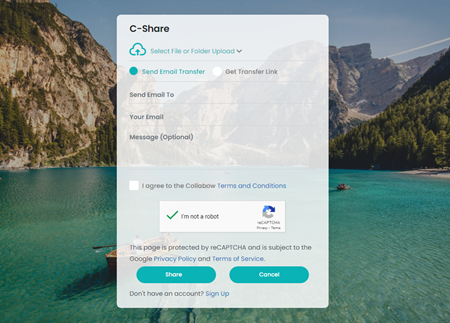 C-Share was designed from the ground up to be a quick and easy file cloud-based sharing service that allows users to share digital content (files, documents, attachments, images, music, video – and more) in real-time, at any time and to any location across the globe.
Documents are stored in the cloud for seven days at no cost, and shareable URLs are immediately available and accessible. Collabow offers maximum useability, transfer speeds and maximum performance. The shareable file service is free of charge, and you don't need to log in or register to send files. Shareable links are validated using an authentication code to ensure that you receive the proper documents from your contacts. Users who need a longer-term solution can create a Collabow account and store their files permanently in the cloud-storage file management workspace. Collabow has a free popular 'Starter' profile and provides the option to upgrade to professional packages to unlock 10GB of storage.
https://app.collabow.io/c-share
---
UploadFiles.io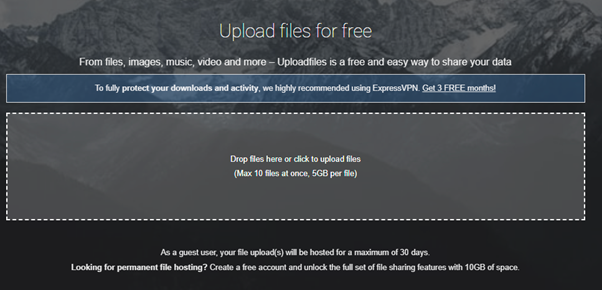 UploadFiles.io is a file-sharing service that allows users to upload files without constraints, safely & anonymously. Documents are encrypted & stored safely in the cloud, for 30 days at no cost, and permanently for expert users: UploadFiles support documents, images, music & video.
As a guest user, your file upload(s) will be hosted for a maximum of 30 days. Using the service, you'll be aware that they fund the service using advertisements and promotions such as VPN services and other similar products. Similar to Collabow, you have the option to upgrade and unlock the complete set of file sharing features which include 10GB of Storage space.
---
SHAREit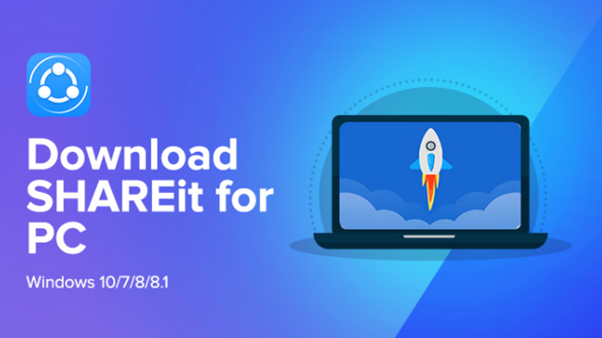 We've thrown a slightly different solution into the mix for consideration. SHAREit is an application that needs to be installed on a compatible device rather than a cloud web app. It isn't for everyone but allows users to send pictures and music without using an active internet or Bluetooth connection. SHAREit is a technology company founded in April 2015. The business created an app that can be used with various smartphone programs to enable users to share files between devices directly. The free program uses a private hotspot to share between up to five devices. You can send data of all shapes and sizes. Be aware that this is a Windows application, so you'll need a Windows PC or compatible device. If you have Mac or iPhone, we recommend avoiding this option until they have developed a more compatible solution.
---
Send-Anywhere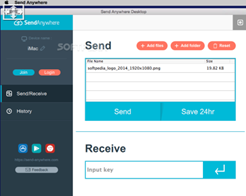 A file-sharing application that takes an easy, quick, and unlimited approach to file sharing. Similar to SHAREit, this is a file-based sharing application and peer-to-peer. You'll need to download the application then register to utilise the bundle. Some cloud sharing or storage services often promise unlimited file storing and sharing, but their speeds and usability are compromised. Send Anywhere is for anyone wanting to share quality content quickly, from any device to anyone worldwide. Send Anywhere utilises p2p media and your local area network to bypass cloud storage, thereby making the transfer process more secure and quicker, and it doesn't require a login or registration.
---
Collabow.io
Collabow.io is a new cloud storage, document management, collaboration and task management system that helps teams create, organise, share, and monitor online content in one place. A highly engaged team is the holy grail of business success, so ensure that your teams have the information to achieve their goals. We recommend using Collabow.io workspace for teams and companies that need extra features, including permission management, file tracking, collaboration, and business functions.

We like free stuff, so we've provided a 'Starter' profile that will get you started. The 'Starter' profile is free, so you can use it to play or until you run out of storage. Read more about the Collabow.io workspace features here: collabow.io/features-list/