Do you want to know how to share a file online? If so, use the guide below.
In a world of constant content creation and remote workspaces, the ability to quickly share a document with someone either across the room or across the globe is imperative for success.
Rapid and reliable information sharing allows us to make informed business decisions and efficiently communicate our ideas which helps us gain a competitive advantage.
During the first half of 2022, we observed a significant increase in information sharing and online business activity. People are sharing and consuming documents in large quantities daily. Those documents range from business proposals, training material, research documents, project plans, to-do lists, design documents, meeting notes, analytical reports and customer information packs.
Documents play a critical role in facilitating any business's proper functioning and success. Collabow helps companies get work done by allowing people to seamlessly share files of all sizes to contacts in any location using our cloud-based file management system and C-Share app. This free app is designed specifically for rapid file sharing with minimum fuss. This post is focused on the best and most efficient way to share a file over the internet (without registering) in a few simple steps.

Users that opt to register with Collabow can utilise additional file-sharing features and storage. Click here to watch a useful How-To video.
---
Step 1 – Open C-Share App
The first step is to open the C-Share web app. You can access it here: app.collabow.io/c-share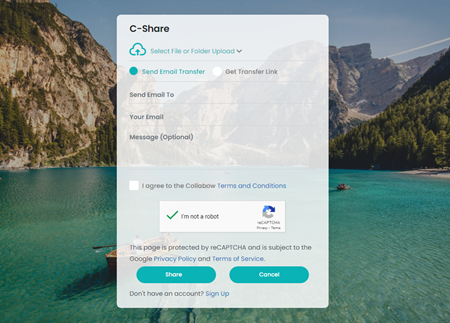 ---
Step 2 – Select file or folder to share
The next step is to select the file that you want to share. The c-share app supports drag and drop, so drop your file in the box and hey presto.
To make things easy, we've recently added a feature that allows you to share the contents of a folder without creating .zip files or doing anything complicated.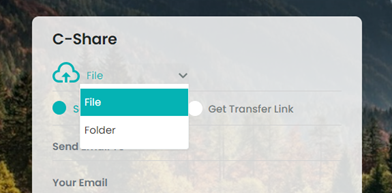 ---
Step 3 – Share using an Email or URL Transfer-Link
Here, you can share the file directly to a user by email or sharing a 'Transfer Link'.
'Email' is where the system sends the receiver an email with the details and a friendly message
'Transfer-Link' is where the app uploads the file to the cloud then generates a URL link that allows anyone with the secure link to view the file. This is an excellent option if you want to share the file with a broad audience or post it in a channel for the team to access, such as WhatsApp, Facebook, Facetime, Zoom, Slack, Skype, Asana, emails, blogs etc. The options are endless.

---
Step 4 – Enter the sharers contact email
Time to enter the sharer details. First, enter the address you want to send the file to; this is called the 'receiver', then enter your email address to validate the transfer; this person is called the 'sharer'. You can personalise the share by typing a short message such as "Hi Pete, here is the file I promised you".

---
Share 5 – Boring part
Confirm that you've read the legal jargon to understand the standard Collabow c-share terms and conditions. Your uploaded files are stored for a short period before they are recycled. We also need you to prove that you are not an evil robot sent to destroy the internet by clicking the reCaptcha checkbox then clicking the big 'Share' button.
---
Step 6 – Verify your file share
The system must validate everyone who uses the site for security reasons, so before sharing the file, we will send you a six-digit code to validate the transfer. Check your email, enter the code then your file will be sent.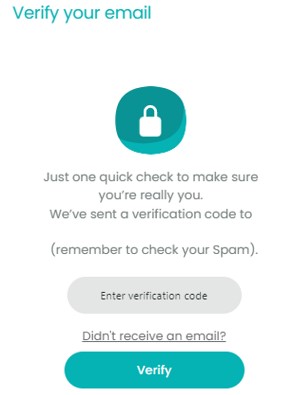 If you are using C-Share for the first time, remember to check your spam and add us to your allowed list for future shares.
---
Step 7 – Congratulations on sharing your first file
As a final step, we like to confirm that your file was sent successfully, so we usually send you a notification email confirming the details on the screen and the receiver will be sent an email link to access the file.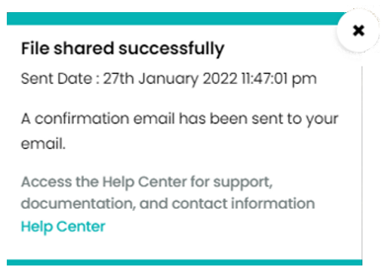 ---
All done – Collabow.io
Collabow.io is a Digital Workspace that provides cloud storage, document management, collaboration and task management tools that help teams create, organise, share, and monitor online content in one place. 
A highly engaged team is the holy grail of business success, so ensure your teams have the information to achieve their goals by using Collabow.io. 

We like free stuff, so we've provided a 'Starter' profile that will get you started. The 'Starter' profile is free, so you can use it for business, play or personal usage. You can learn more about our packages at https://collabow.io/plans/and more about the available features here.

We like free stuff, so we've provided a 'Starter' profile that will get you started. The 'Starter' profile is free, so you can use it to play or until you run out of storage. Read more about the Collabow.io workspace features here: collabow.io/features-list/
---