How do task management tools help with project management?
Juggling multiple projects that each involve many tasks, departments, team members, and a slew of other responsibilities ensure that a good manager's head will constantly be running from the minute they wake up until well after they've gone to sleep. To keep things simpler and more organised, the best managers utilise a task manager. Task management tools are loaded with features and functionality that help teams, and managers collaborate better, create to-do lists, and stay organised across multiple tasks, projects, and offices.
What Exactly is a Task Management tool?
Task management platforms have several functions that provide useful tools to organise and then lighten the load for both managers and workers. Essentially, a task manager is designed to manage one or more tasks from start to finish, covering every aspect of the task. This can include time estimates, task scheduling and various aspects of planning the implementation and completion of the work item.
How can I use Collabow's Task Management tool?

Collabow's Task management tool can be used to support both companies and individuals. It allows you to share work that needs to be completed by:
Creating projects
Adding tasks
Setting due dates
Assigning responsibility
Discuss the details in the chat
Sharing cloud-stored files
In this example, I will demonstrate how to use Collabow's quick and easy task management tool to create a task list for posting a blog.
First, locate the Task Management menu, then click Add Project to create a new project.

Once you have created a project, click the Add Task button. This will open the window below, where you can include information about the task, such as a title, start and due date, sub-tasks, files, web links and priority. You can also delegate tasks by assigning them to someone in your team using the Assignee option.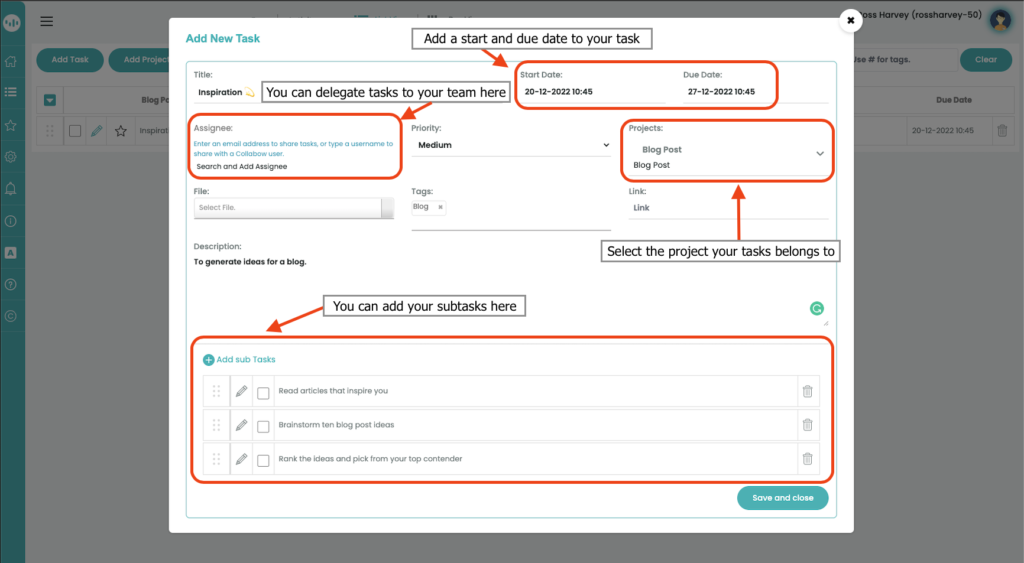 Once you have assigned a task, the recipient will receive an email notification. From there, they can update the information, comment and keep the task's status up to date. Once complete, simply mark the task as 'Done', and move on to the next most important thing.
We've create a short video to show demonstrate Collabow's task management in action. Enjoy